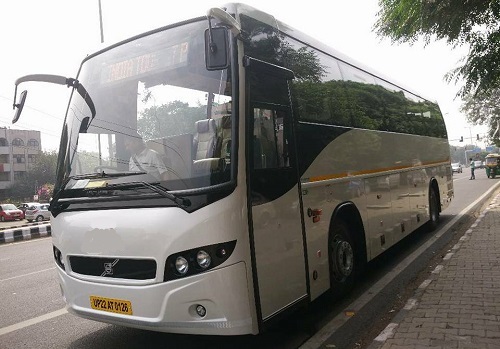 Tata Deluxe Coach – 41+2 Seater
Comfort My Travel will be the smartest choice for you to book a premium Tata Deluxe Coach 41+2 Seater in the most appropriate price range compared to others in Delhi. Condition of the Tata Deluxe Coach 41+2 Seater will remain properly maintained and clean complete with sanitized seats as well as the full body of the traveller after each journey. We will provide you with very well versed and well-groomed drivers, timely pick-ups and drops and very competitive prices. Along with the driver, the Tata Deluxe Coach AC 41+2 Seater comes with a helper will aid you with the luggage and guide you while answering all the queries. He also serves as a navigator for the driver. The three categories for the Tata Coach on rent all have different features. The Tata Deluxe Coach AC 41+2 Seater provide you with a premium inside build with air condition and normal seats. The Tata Deluxe Coach AC 41+2 Seater will provide you with the luxurious design, premium build, air-condition and push-back seats to relax on. All vehicles will be well modified and equipped with the luxurious facilities like music system, LED TV, first Aid Box, and all other essentials. We provide you with the best car hire rates in Lucknow for all your travel requirements.
Car Name : Tata Deluxe Coach
Seating Capacity : 41 passengers
Charges :
| | |
| --- | --- |
| Minimum 250 KM | Rs. 90 Per KM |
| Night Charges | Rs. 1500 |
Need Help?
Call Now